Clothing Line
New Meek Mill / Dream Chasers T-Shirts Available Now!
Posted on October 24th, 2011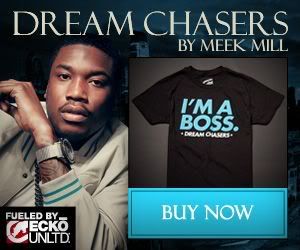 Meek Mill and Ecko Clothing bring you the brand new "Dream Chasers" line. Check out all the various Dream Chasers styles on sale right now. Shop Here!
Twitter
I'm rich as shit my nig....I quit u got it! Lol RT @Roscoedash: Yooo @Meekmill you must not be getting no money b!!
RT @NBCPhiladelphia: Hip hop star @MeekMill tours the scene of fatal fire to show support for the victims: http://t.co/k6u5TSVfEk http://t.…
RT @coonphilly: Watch @meekmill Exclusive #DWMTM dinner!  http://t.co/iAyRfIq4IO  9.9.14 #DreamChasers #MMG
And since I'm in the hood lets do some great things! Come donate clothes"food and money for the 4 kids and that ... http://t.co/aTofkzgJSG